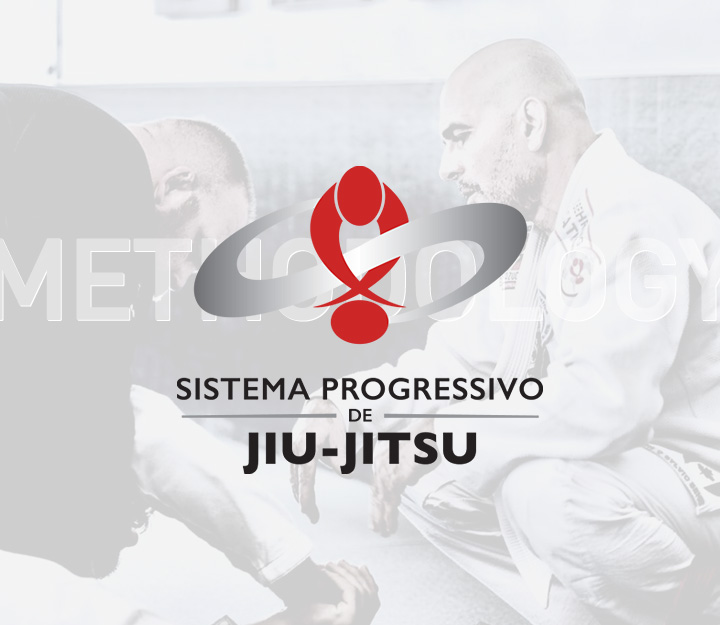 Progressive System of Jiu-Jitsu
Teaching methodology of the fundamentals of Brazilian Jiu-Jitsu and self defense which consists of progressively organizing, preserving and facilitating learning from simple to complex, in order to stimulate and develop the student's self confidence and technical improvement.
The Progressive System of Brazilian Jiu-Jitsu (from simple to complex) is used. The method was developed by master Sylvio Behring, in the late 1980s, based on individual classes taught by Grand Master Alvaro Barreto, a complete, simple and efficient method.
Teaching is based on self-defense on the ground and standing. It is taught in a positive, cooperative way, through the repetition of the movements learned and gradually new techniques are introduced to condition the reaction (defense) to the stimulus (atack).
On the ground, teaching is based on the progressive "Gangorra" (seasaw) to introduce the brazilian jiu-jitsu. The "Gangorra is divided in two parts: a series of movements that condition the practitioner to move correctly on the ground, moving from a situation of risk to a situation of total dominance of the opponent.
Standing self-defense addresses several situation where a real confrontation is simulated. With the teacher in the role of the aggressor, the student is induced to perform the correct defense using the level of strength appropriate to the level of resistance offered by the aggressor.
First the technique is taught. Then the details are corrected. And finally movement training takes place to condition the student's response. This last part is based on the stimulus-response, where the stimulus is aggression and the response is defense (with emphasis on prevention, verbalization, basis, balance, connection and student strategy).
In this methodology, the techniques are taught with an appropriate didatics for each phase of the student's development. In this way, the student builds a solid technical repertoire that is part of a block of techniques that refers to the art in its entirety, enabling its understanding. Thereby, it is possible to understand and build a solid foundation for the application of self-defense techniques safely and successfully. For the full development of the student, the techniques are presented and taught gradually, respecting the individual evolution.
Our methodology proposes that each technique is not something isolated, but a piece belonging to a foundation that is part of a block that goes back to a complex and well-designed fighting structure.
AZAMBUJA, R.; AZAMBUJA, G.; BARCOS, R.; Manual Básico do Sistema Progressivo de Jiu-Jitsu, Porto Alegre, v.05, 2021.
PROGRESSIVE SYSTEM OF JIU-JITSU
™
BECOME PART OF THE SYLVIO BEHRING ASSOCIATION
Work with a established methodology.
Get to know the Progressive System of Jiu-Jitsu.
Schedule your Seminar or Course with Master Sylvio Behring.